1936 Bugatti Atlantic Replica Project
RABUGGI - Donor Vehicle / Chassis
Well, here we go!... [07-15-06] A donor vehicle has been bought.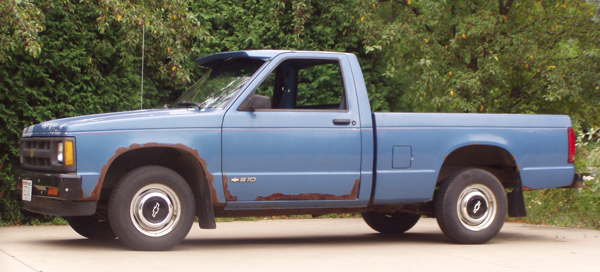 The Donor Vehicle: '91 S10 EL short bed 2WD, 4 cyl. 5 spd. (plain & simple! - no PS, no AC, no cruise)
Couldn't find a decent long bed with a 5 speed. This is a short bed (108 in. wb.), so not the desired 117.9 wheelbase of the long bed. However, it's reasonably priced and low miles for a 15 year old, so the engine and tranny should have some good life left without a lot of work there. We'll figure out some way to add 9 inches.

Initial... Verify some of the assumed or approx. dimensions for the Concept Layout [322K PDF]...

Basic engine, bellhousing, tranny dimensions [09-06-06]
Harness labeling
Drive it some to find out what we really have... [good runner]
Replace leaky L. rear axle shaft seal, broken frt. sway bar links. [08-09-06]


Tasks...

Frame: [08-18-06] Bought a used long bed frame. Paid some more, but no uncertainty now about lengthing the short frame with fish weld or whatever. We can start work modifying (cutting off unnecessary fittings, etc.) this chassis before taking down the donor.

[08-30-06] The long bed frame from Gibson's in Neenah, WI
Disassemble, Clean-up, paint chassis.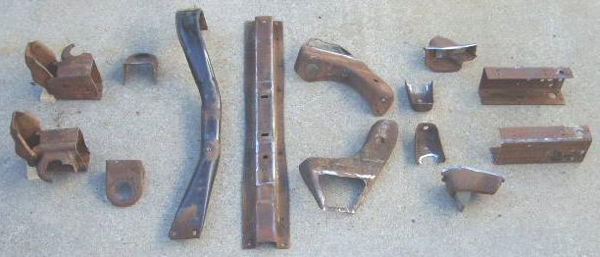 [~09-19-06] Some of the stuff removed from the frame
Locate/fabricate: engine mounts, rear tranny mount, radiator mount (all rearward ~33.5 in.).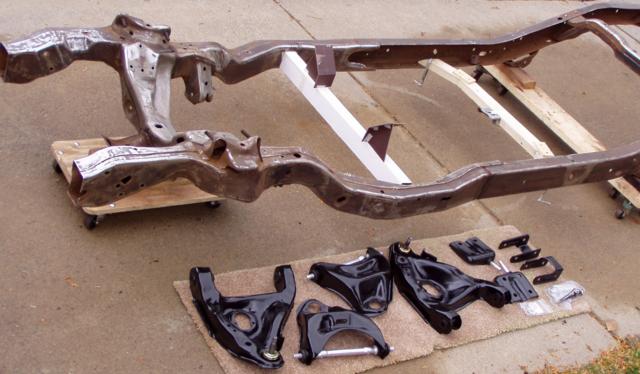 [10-17-06] Some cleaned-up parts, the trimmed frame, and cardboard engine mount mock-ups...
We'll sandblast and paint the frame after the mounts are welded up.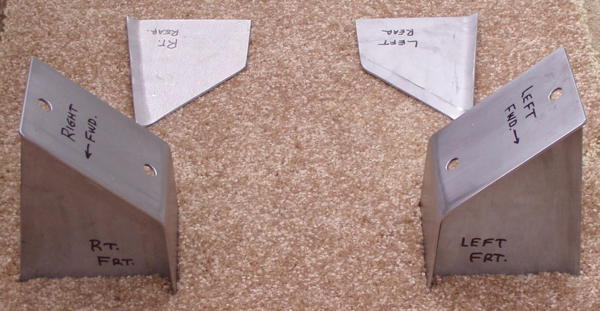 [10-17-06] Front engine mount pieces, coming along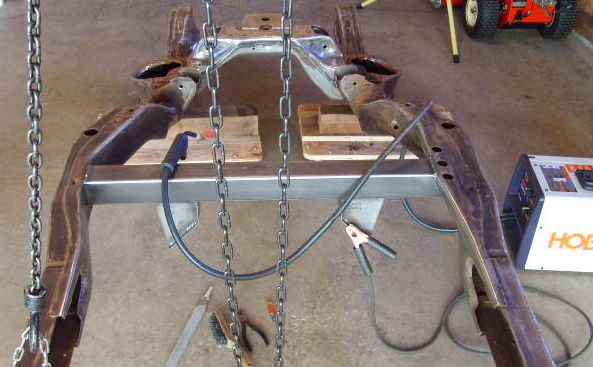 [10-29-06] The frame flipped for welding the front engine mount bottom (3x3x.120 A500 steel square tube)...
Coincidentally, the new front mount is very nearly at the location of the OE rear engine mount.

[10-31-06] Welding the rear engine mount (3x2x.120 A513 steel rectangular tube)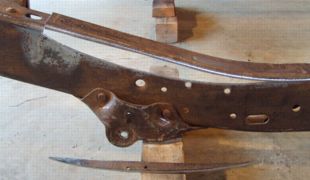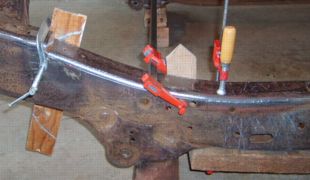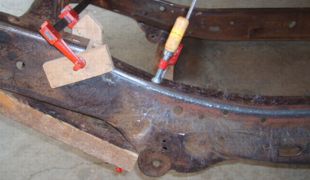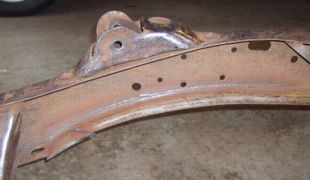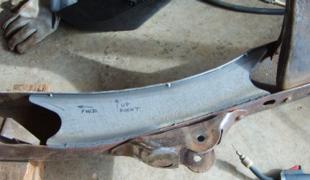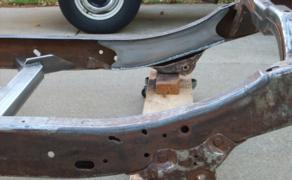 [11-06-06] Necking down the frame for a little more clearance under the seat bottoms...
The 'boxing' (last two images) of that area should restore the modulus we lost in reducing the section height.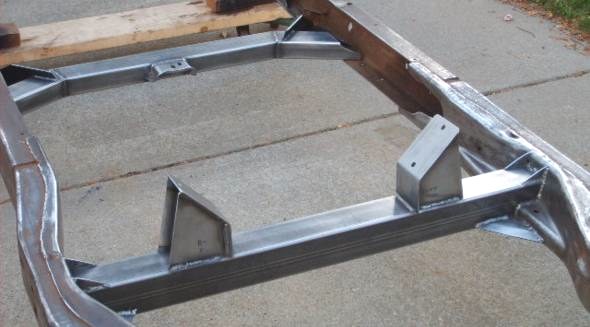 [11-08-06] The frame, engine mounts, and "notches", pretty much done and ready for sandblasting and painting.
The rear engine mount is just lying there for the picture; it will be a bolted in assembly.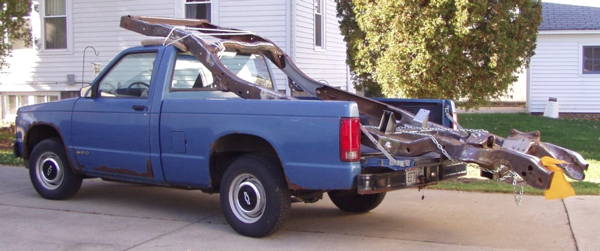 [11-09-06] Piggybacking the frame to the sandblaster (Quality Paint & Coatings, Oshkosh, WI)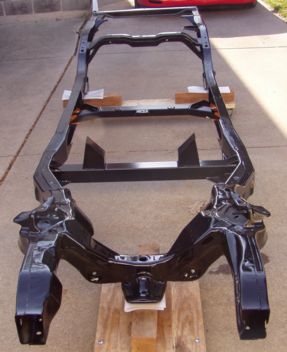 [11-22-06] The frame, back from outsourced sandblast, prime & paint
Phooey! After starting to assemble some chassis components, I noticed that the frame had some warpage in back. It was straight before we started working on it, so it must have happened when we were welding on the necked-down section and weren't sufficiently vigilant for that sort of thing. It's only about an inch over the width at the tail lateral member (~1.4 deg.), but now's the time to try to correct it.

[12-20-06] Frame correction bend clamp-up:
We'll try to bring down the tail left side with a compensating bend at the "kick-up" section over the axle.
Calculations say that it will take about 5600 lb. from the 6 ton jack to yield the frame rail at that section.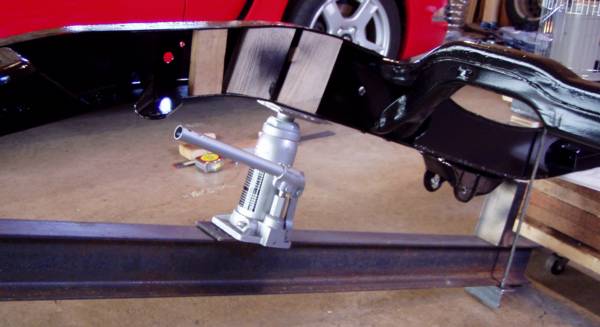 [12-20-06] Frame correction bend clamp-up:
The wood compression stubs should prevent buckling of the frame "C" channel section.
A stack of four scrap pieces of 12 ga. cold rolled should distribute the load from the 6 ton jack.



[12-20-06] "Before"... The pine boards and the added green level lines give an idea of the distortion.



[12-20-06] "After"... Better - and I don't think we wrecked anything.
Reassemble chassis with 2" drop spindles & 3" lowering springs (to get the ~3" total needed with the expected lighter weight), 3" lower rear springs & 1" lowering blocks, "lowering" shocks, new: brake rotors, pads, calipers, bearings, drums, shoes, slaves, ball joints, bushings, front sway-bar links, rear axle shaft seals, [shortened driveshaft, custom radiator, fuel tank behind axle...]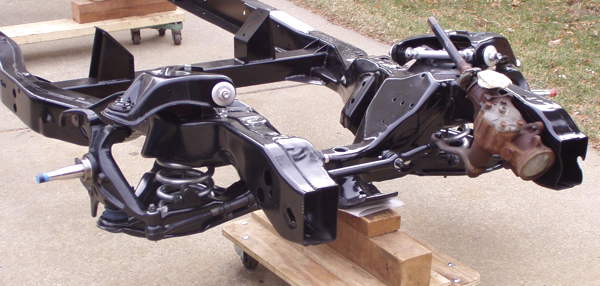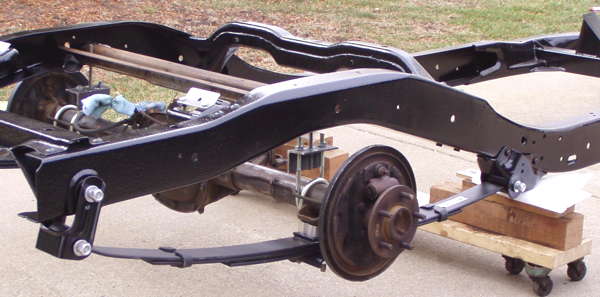 [01-10-07] Some screws are finally starting to go clockwise... even if some is just test assembly.
Some resource links for S10 "drop" spindles, springs, shocks...

Belltech Sport Trucks / JEGS High Performance / Streetbeat Customs / StylinTrucks / Summit Racing Equipment
Next...
Strip donor for: engine, transmission, rear axle, steering gearbox, ECM & harness, master cylinders, tank. Drain coolant, fuel. Dispose of obvious excess stuff; keep/store small useble items.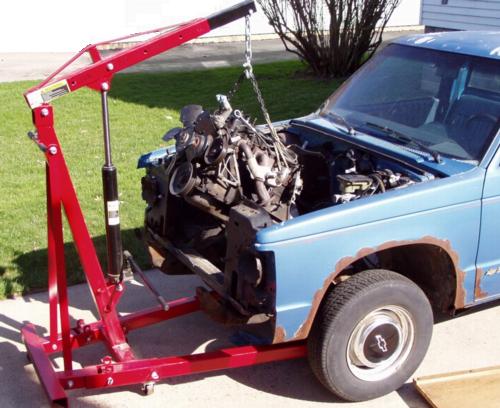 [04-20-07] The little blue truck's last breath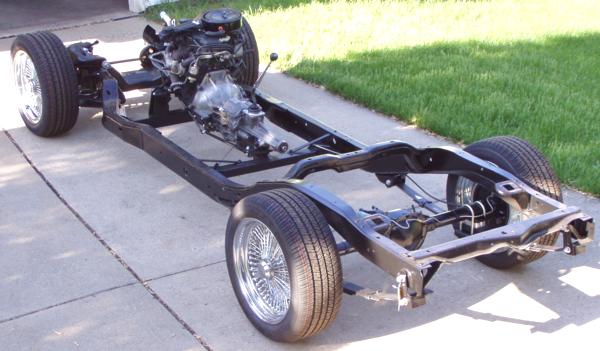 [05-25-07] Time for a web page image update... Engine, rear axle and steering gearbox are cleaned up and mounted.
Engine to mounts fit is good. Harness, clutch and brake masters, fuel tank, are about to come out of the donor next.




[07-02-07] Our original plan for the exhaust system was pretty lame. This shows rework on the transmission
mount to provide clearance for the S10 O.E. header pipe to a catalytic converter and decent muffler.
It takes the exhaust down the wrong side, but hey, we're making it left-hand drive too.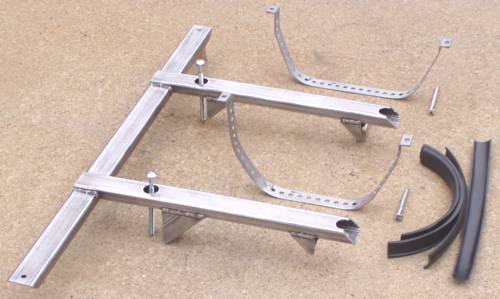 [07-16-07] This fuel tank mount assembly (2x1x.120 A513 steel rectangular tube) will work slick for the cleaned-up S10 tank.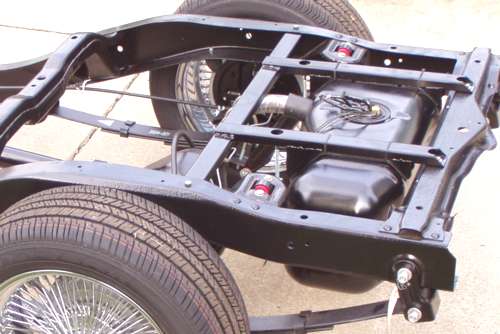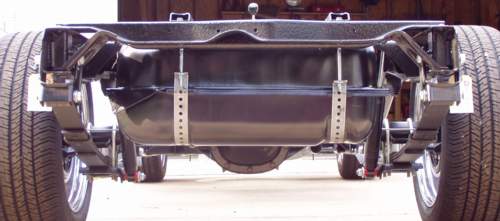 [07-18-07] Mount and tank fit-up looks good .




[09-05-07] Shell of Old Blue on the way to the bone-yard; he's given about all he can give.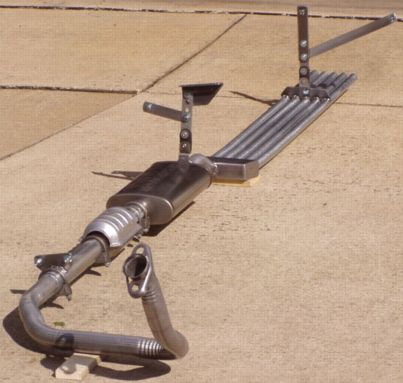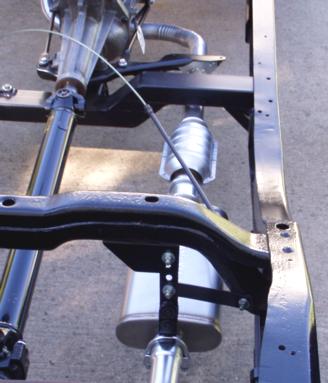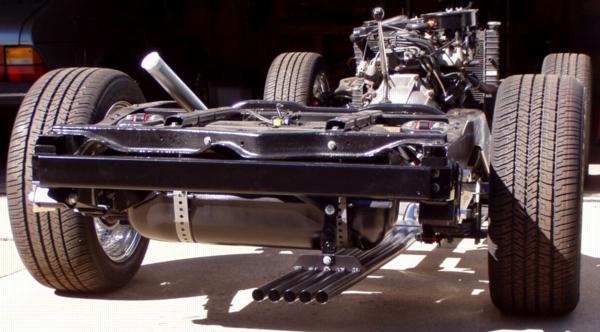 [09-11-07] [09-12-07] The exhaust system with the 5 little tailpipes... Good grief, it took a long time to finish up this simple assembly.
The new short driveshaft visible above is from Denny's Driveshafts, Kenmore, NY.
MagnaFlow muffler & catalytic converter are from Summit Racing.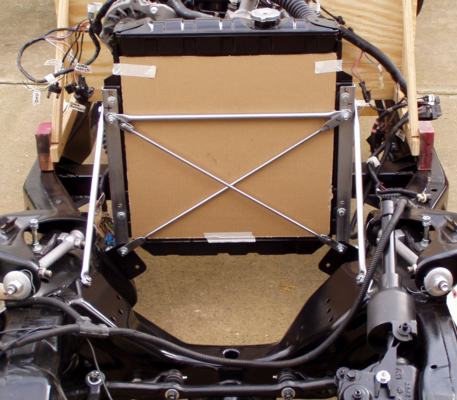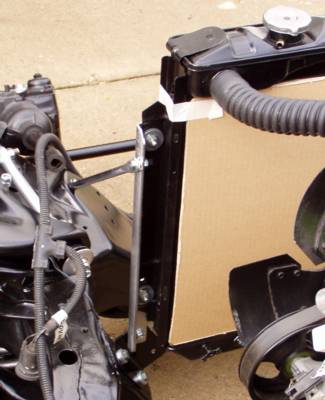 [10-16-07] Radiator mount - needs some shrouding and baffling next.
Radiator is a "Radpro 130" from the local radiator shop.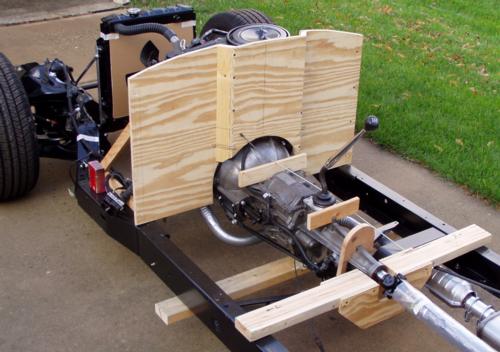 [10-16-07] Firewall-floorboard-tunnel mock-up start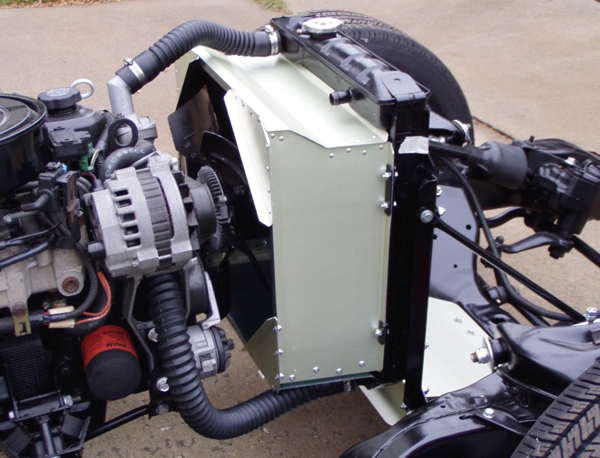 [11-19-07] Radiator baffle, shroud, and hoses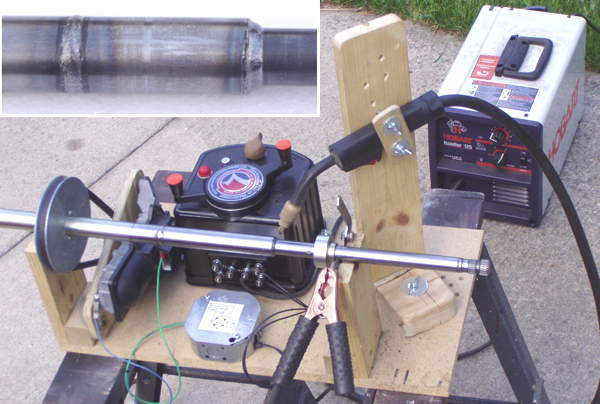 [06-01-08] Variable speed steering shaft welding "rotisserie" --
pulleys, belt, and the S10 windshield wiper motor driven through rectified output of a circa 1950 Lionel train transformer.
0.75" and 1" DOM steel steering shaft tube from Metalsdepot.com.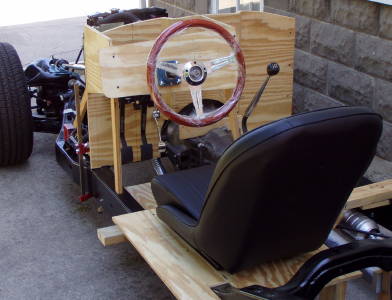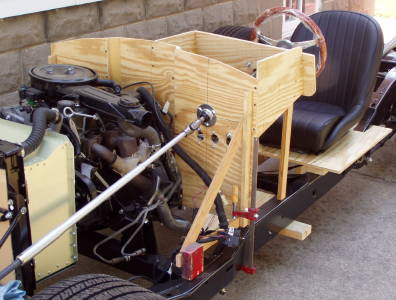 [07-05-08] Mock-up of firewall, floor, panel, pedals, wheel, for seating
position verification before getting too serious with floorboard mold modeling.

Wilwood master cylinders, clutch/brake pedals from Summit Racing and Art's Racemart [site NLA].
Steering shaft collapsible section, u-joints, splined weld stubs from Woodward Machine.
Grant Products 1170 mahogany steering wheel from Summit Racing Equipment.
Cobra Roadster SS seats & sliders from Subè Sports.
Spoon throttle pedal from Speedway Motors.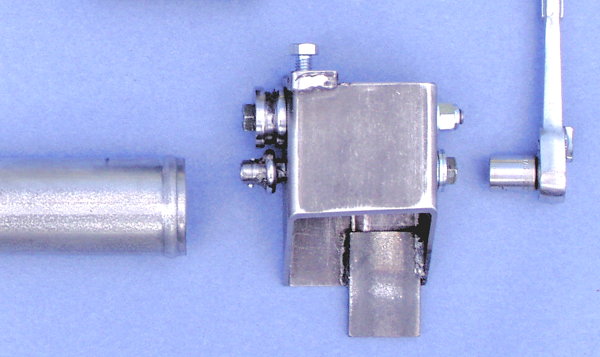 [08-14-08] Couldn't find anybody with a bead rolling tool, so made one up for the fuel filler hose connector.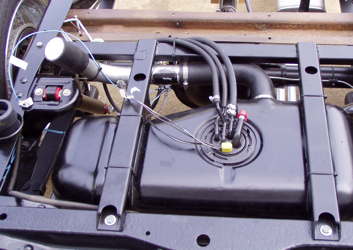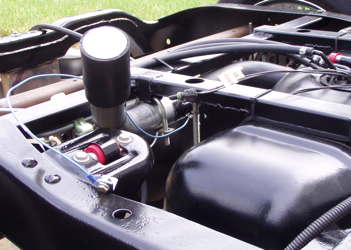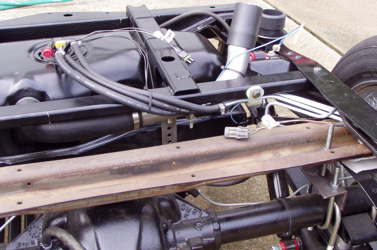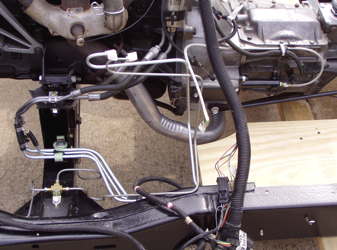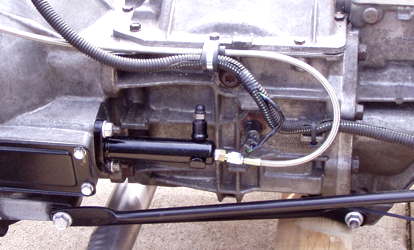 [08-28-08] Ugh!... Tubes, pipes, hoses, fittings, bending, clamping, grounding...
The last image illustrates hacking the S10 clutch slave inlet fitting to accomodate our horizontal space challenged tunnel.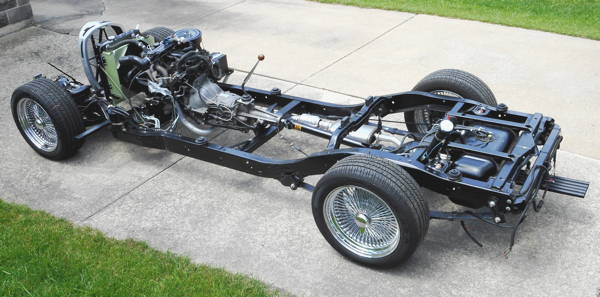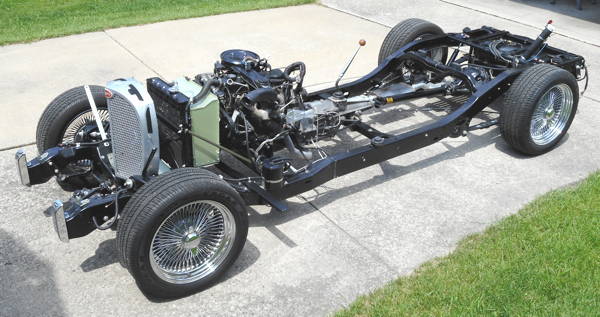 [07-05-17] Completed rolling chassis... ^ ^ ^ Click for full resolution images. ^ ^ ^
Note the date; these images are a photo-op while the body is all disassembled for the paint job.


On to the Body Patterns Page > > >

Last tinkered with July 7, 2017