1936 Bugatti Atlantic Replica Project
RABUGGI - Wheels & Tires
The 57SC original's wheel rim size is 18 x 5.5 in. front, 18 x 6.5 in. rear. We'll design for 18 in. rims (7 or 8 inch width) with cross laced wires for a Euro '30s look, with a 235/50 x 18 tire section. Modern radial laced wires also could be appropriate in spirit, since the Bugatti type 59 of the early '30s had radial wire wheels (the "piano wires").

Apologies to the Bugatti purists. Yes, these style wheels are not particularly correct. Modern wheel and tire section is one of our intentional deviations from an accurate 57SC replica.

OE and proposed wheel sections [S10 bolt pattern is 5 x 4.75, 12mm x 1.5 studs]...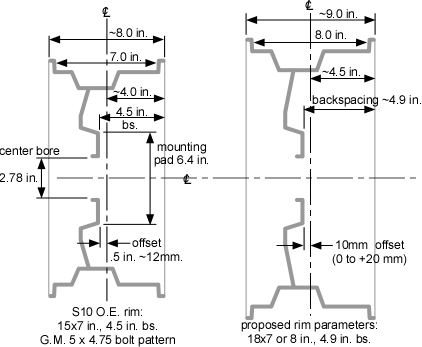 OE and proposed wheel sections overlaid with tire sections...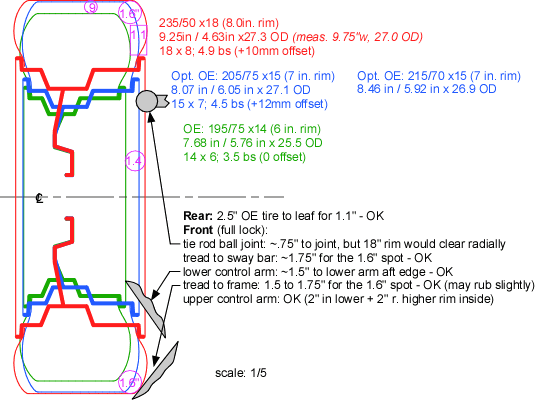 This size should have no issues with the S10 chassis and suspension. We have control over the fenders. 0 to 10 mm offset would be acceptable. Speedometer error resulting from the larger rolling radius can be accommodated by recalibrating the DRAC.
---
[02-08-07] Wheels acquired. Here's what we're proceeding with...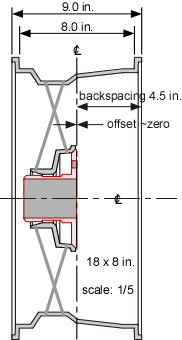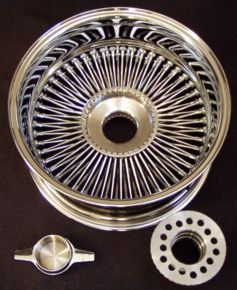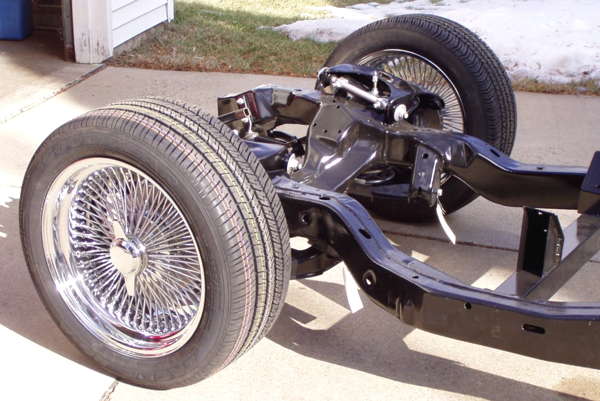 [02-22-07] Wheels with the 235/50-R18 tires



Some observations in the course of buying wire wheels...

With the exception of Dayton (Ohio) and Zenith (California), it appears that all the other brands of wire wheels found on the internet (ie: Cruiser, Gangster, LA, Luxor, MOB, OG, Player, Pinnacle, Supreme) are imported from China.

The wheels I ordered from "Insane Sounds N Customz" are OG brand. They were drop shipped from OG Wire Wheels in Santa Fe Springs, CA. The rims and hubs inside are stamped "YDH". A Google for _ydh wheels_ found: Ningbo YingDaHuang Machinery Co., Ltd. [link NLA - alternate link], listing wire wheel products [link NLA].

My guess is that all these wheel brands import their product from YDH, AITL, or possibly Wheel India Limited, and market them under a name deemed suitable for their particular demographic target.

Discussion of the self-tightening property of center lock knock-off wheel hubs

Wire Wheel by tbob on Sketchfab. [Click & drag to orbit. Shift-click & drag to pan. Scroll to zoom.]

Last tinkered with January 21, 2017