The most recent progress and gallery of images is on the [Glazing/Finishing] page.
First, here are some informational links about Bugatti Atlantic, the object of this replica project...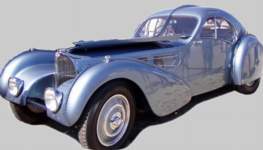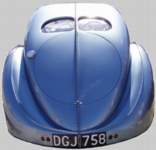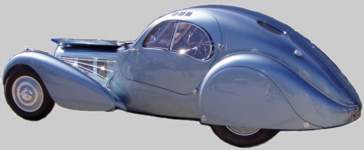 An original Bugatti Atlantic at Road America (Elkhart Lake, WI), Sept. 17, 2005 - one of two surviving
*** This is not the project car. This is an original that we are striving to emulate. ***

Some stumbling around on the web led to the realization that a Chevrolet S10 pickup 2WD long bed is a very close match for the wheelbase and track dimensions of the Atlantic. This ubiquitous Chevrolet model would be a suitable chassis donor for a project car.

'36 Bugatti Type 57SC: S = "surbaissé" (lowered), C = "compresseur" (supercharged)
* Wheelbase: 117.3 in. * Track: 53.1 in. * Weight: 2101 lb. * Wheels: F 18 x 5.5 in., R 18 x 6.5 in.

Chevrolet S10 Pickup:
* short (72.8") bed = 108.3 in. wb. * long (88.8") bed = 117.9 in. wb. * extended cab = 122.9 in. wb.
* track, f / r (in.): '82-'93: 54.1 / 54.1 '94-'04: 54.5 / 54.6

The Concept:

[09-26-05] Use an S10 donor vehicle chassis lowered the ~3 in. required using commonly available "sport truck" drop components, with a fiberglass/polyester body and 18 in. wire wheels. The S10 radiator, engine, and transmission mounting will be relocated rearward ~33.5 in. We'll accept deviations from a true replica, such as left hand drive, modern tires, deviation as required in steering box area, and the obviously non-authentic chassis. The S10 donor four cylinder and five speed are just fine; this is not a "supercharged drag racer/hot rod" project. Interior components are to be in the spirit of the original, but not necessarily authentic replication. This is intended to be a serious copy in proportion, size, and line, but will not be a "concours quality" exactly correct replica.
[Wisconsin DOT Hobbyist/Replica Registration Application sequence]

For techies or serious RABUGGI followers only --
Here's a directory of drawings, notes, and data accumulated over the course of the project.
Explore this dark archive of cryptically named files (mostly .pdf) at your own risk of boredom.
Last tinkered with January 19, 2018
by Bob: