1936 Bugatti Atlantic Replica Project
RABUGGI - "Mug Shots" for Hobbyist/Replica Registration Application - Sept. 15, 2016
Wisconsin DOT wants four pictures of your vehicle (sides, front, back) to go with the Registration Application form MV2388. Below are RABUGGI's pix.

11-04-16 (7 weeks): Received a reply from DOT. They want an inspection certification by the nearest State Patrol office "for proper equipment for a 1936 BUGATTI" (apparenty to verify that it really is a replica of a Bugatti Atlantic ??). Don't understand what all is really needed, but an appointment has been made (11-23-16) with a Trooper/Inspector who sounds on the phone like a helpful regular guy, and says he'll come to the car (good, no trailering necessary).

11-30-16: Trooper/Inspector Mitch came to the RABUGGI garage and worked professionally and tenaciously for 1.5+ hours as an advocate to move forward my Hobbyist application. He quickly determined that yes, this is a reasonable replica of a 1936 Bugatti Type 57SC Atlantic, and inspected it favorably as such. Mitch went several extra yards in the process, eg: finding a difficult to see stamped engine number on the S10 four cylinder block (apparently very important for the DOT paperwork). This inspection turned out to be a positive experience, a big move in the right direction, and a weight off my shoulders. Sent in to DOT the inspection form MV4060, as well as a title application form MV1 (incomprehensible to me, but Mitch helped fill it out correctly).

12-09-16: Received a VIN tag from the WI DOT with a form MV2048 to return with a law officer's verification that the tag is installed on the car. Then the rest will presumably be forthcoming.

12-12-16: Surprise... Received the WI Title and Certificate of Registration. Moving right along now!

12-13-16: Epoxied in an aluminum bracket mounting the VIN tag on the door jamb (a good trick when the temperature in the garage is 6F). A WI issued decal goes on the lower left windshield advising that the VIN tag is on the door jamb.

12-14-16: Went to the local Police Dept. to request for an officer to come by to do the VIN tag verification. (??)

12-16-16: Dropped by the local Police Dept. again this morning and this time got a patrolman who says "OK, I'll meet you at your garage in five minutes!". Good guy. First thing he did was pull out his iPhone to take some pictures of the car. :-0 He happily signed the state form verifying that the VIN tag was indeed mounted on the car, and I sent that in this morning. That should move along the Hobbyist plates.

12-17-16: Surprise again... The WI Hobbyist plates came in today's mail. Madison couldn't have gotten my verification form already; it was mailed just yesterday. (??) Whatever... We're finished with this three month process now, all square and legal. Ready to go test and play a little as soon as the weather gets reasonable again.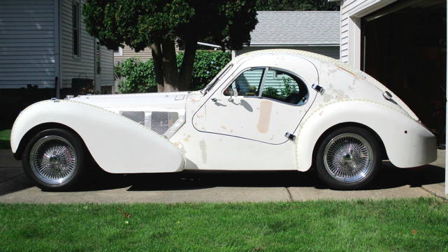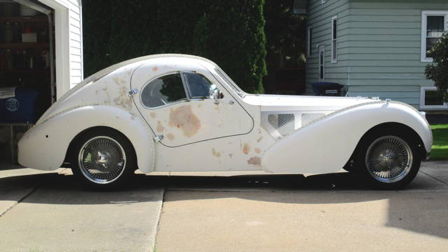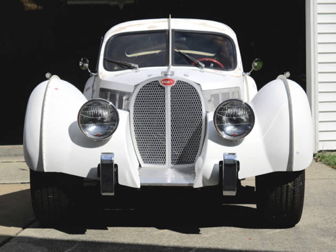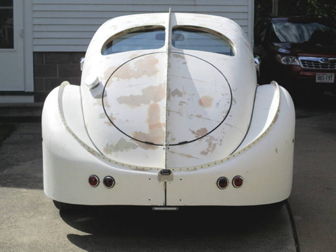 Last tinkered with December 17, 2016.