Images of 4-6-2 Pacific, Soo #2714 (Fond du Lac, WI, USA)
class: H-22
builder: ALCo (Schen.)
year built: Feb. 1914
engine wt.: 264,000 lb.
data sources
(1), (2), (3)
drivers: 75 in.
cylinders: 25 x 26 in.
boiler pressure: 200 psi.
tractive effort: 36,833 lb.
(Partial content of plaque at Lakeside Park display site, edited):

This engine was built by the American Locomotive Company of Schenectady, NY. It was one of four engines purchased by the Wisconsin Central in May, 1911 [other Soo sources (1), (2), (3) say 1914] and was built light for passenger service. It was fired by a stoker, and the tender held 12,000 gallons of water and 17.5 tons of coal. With a working pressure of 200 pounds per square inch, it pulled up to 18 passenger cars and could reach 80 miles per hour.

While in service #2714 logged over 2 million miles. It made runs from Fond du Lac to Stevens Point and Minneapolis. At one time it also ran between here and Winnipeg, Canada. The 800 mile trip to Winnipeg was the longest continuous run of any steam engine in the United States at that time.

Three sister engines (2715-2717) have been scrapped. This engine was retired February 15, 1955 and donated to the city of Fond du Lac by the Soo Line and Wisconsin Central Railroad.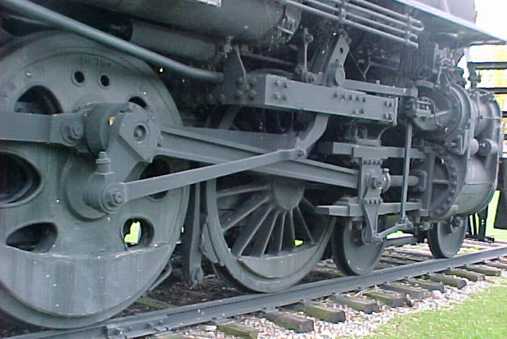 #2714 - right rear quarter - drivers
The center driver was probably replaced with the present Boxpok version between 1948 and 1954, like similar locomotive 2719 [link NLA]. The Boxpok ("box-spoke") drivers with greater lateral strength and stiffness were an upgrade for high-speed service.


Composite image: #2714 - drivers, valve gear



Last tinkered with December 5, 2015